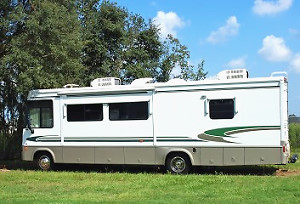 You have just started your travel in a brand new RV and have camped out in a nice open area near a spring. You are feeling perfectly content and thinking that this is what every holiday should be like – when suddenly you notice a stream of spiders going in and out of your RV! To ensure that such an experience does not happen to you, you may want to follow the steps given below to keep many pests out of your RV.
· Once you have chosen an RV park or campground, ensure that your RV is parked on a solid surface. Most parks and campground will have special parking areas right next to the utilities to make it easier for you to park your RV. Parking it in a damp grassy area, wooded area or fields always increases the risk that pests that live in these areas may enter the RV.
· Follow some very elementary precautionary measures. For example, you may want to put dryer sheets inside the cabinets and all the drawers to keep away the mice. Check if there are any holes on the underside of your RV. These are ideal openings for small mice and rodents to get in. To check if there are holes in the cabinets or closets, you may want to first turn off all the lights when it is dark outside. Then open up all the closets and cabinet and examine them carefully to see if you can see any light filtering through. This will give you a clear idea of where the holes are. Immediately fill up these holes with expandable foam or even silicone.
· When you are in a camping ground, you may bring out your supplies and also collect some more like firewood and so on from nearby wooded areas. Preferably stack these up far away from the RV. Since these supplies and the freshly cut wood tend to attract a lot of pests, keeping them near the RV is almost like inviting them inside.
· Another simple method to keep out spiders and ants is by spreading some kitchen cleanser, that usually contains bleach around the RV, and more so near the tires, steps, and leveling jacks. This should be very helpful in keeping out ants.
· Follow basic cleanliness inside the RV. Just because you are on a holiday does not mean that you do not clean your living quarters. Take some time out and regularly keep the RV clean, especially the kitchen. It is very important that the garbage be taken out regularly, all the surfaces scrubbed clean and no food or food crumbs left out, as that is a sure fire way of attracting some hungry pests.
· Once you are done with the travel, you may need to take some more precautions to prevent pests from making their homes inside your RV. One way to do this to cover all open vents with tape so that pests cannot climb and live inside them when your RV is not in use.