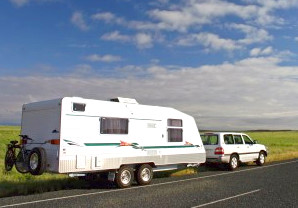 If you are a true travel enthusiast and enjoy seeing new sights and meeting new people then the traditional style of travel may prove to be very stifling to you. You hate having to rush to the airport only to find yourself waiting in a queue for hours and you do not like being rushed to keep up to schedules when all you want to do is spend a few hours in a nice quiet spot. Well, an RV may be the perfect vehicle for you. Travel with the freedom you want and save on your costs too. However, before you start off on your RV trip, you may want to ensure that you have carefully gone through all the safety checks for your RV. Even though your RV may be relatively small and light, you need to still go through the safety checklist to ensure everything is in proper working order.
1. To begin with, do not try to guess how much weight your RV can take on and then find that you have overloaded it causing a dangerous situation. Go through the manufacturer's safety instructions, which will clearly mention how much weight the RV can safely carry and then try stick to well below that.
2. After packing all your stuff in and ensuring that it is well within the weight limits, you may want to step outside to conduct a quick survey of your RV. Look at it from all sides and ensure that it is properly balanced both in the front as well as the back.
3. Always ensure that all items in the RV are properly and safely secured. Though they may seem trivial, loose items can cause some serious damage.
4. Next you may want to check the pressure in the tires of both your RV as well as the tow vehicle. This is extremely important as tire blowouts especially in hot seasons are very common and can lead to serious accidents. Underinflation is often one of the main causes for tires to fail. An underinflated tire tends to get hot, the air inside expands and the tire just blows out.
5. Make sure that your RV is tied securely to the tow vehicle. For this you need to be sure that the equipment connecting the RV and the tow vehicle are in proper working condition.
6. You need to check the electrical wiring in the RV. You need to ensure that all the lights including the lights inside the RV and tow vehicle as well as headlights, brake lights are all working fine. Confirm that there is no loose wiring anywhere, especially that there is nothing touching the road.
7. One of the most important things you need to do is confirm that the braking system in the RV and tow vehicle is working fine. You may need someone to assist you in checking this – request the person to stand near the wheels of the RV. Now turn on the brake controller from your tow vehicle – there has to be a hissing sound near the tires indicating that the brakes are being powered on to stop the tires. This suggests that the braking system is working fine.